Dear Leisure Islander,

Welcome to our first newsletter of 2014....
New sculpture graces LI entrance
A striking new sculpture of a blue crane, SA's national bird, was recently erected on the right-hand entrance wall.
This beautiful work of art was made by Leisure Isle resident, the late Christine Carter who passed away recently, and donated to LIRA and the island in her memory by her husband Colin, so that all may appreciate it.
"On behalf of LIRA and all Leisure Isle residents, our thanks for the beautiful sculpture Colin has donated to the Island," says LIRA chairman, Keith Hollis. An art fundi (with BA History of Art on his illustrious CV), Keith adds:
"I believe the sculpture truly is a magnificent work. It is light and poised with such graceful movement. Christine was very talented. It certainly makes a wonderful addition to the Island entry."
Christine loved Steenbok Nature Reserve and ideally would have liked her sculpture there, but we have placed it at the entrance so that our guards can keep a keen eye on it, such are the realities of metal theft in SA.
A big thank you to the Carter family!
LIRA Briefs
Festive season law enforcement
Despite promises by Knysna Municipality of strict policing and low tolerance of anti-social behaviour over the holiday weeks at Bollard Bay and Green Hole, it's LIRA's opinion that law enforcement was still not up to expectations. There appeared uncertainty among the part-time Law Enforcement Officials as to the extent and application of their authority, and busses were allowed on to the island.
We were pleased that Allsound performed satisfactorily.
Many LI visitors and residents continue to disregard various by-laws, such as dogs off leashes and drinking on the beach.
LIRA has scheduled a report-back meeting with KM to assess the season - and LIRA members can be assured that this 'work-in-progress' remains top of the Committee's agenda.
Compliance with by-laws
WHILE taking into account social and political sensitivities, and especially the lack of enforcement capacity of KM and the SAPS, LIRA believes it would be unwise not to insist on a level of compliance with our by-laws. Failing to do so would only lead to more and more disregard of them.
LIRA will look at establishing a policy on acceptable levels of compliance, and formulate a strategy of appropriate action. An initial idea is to first focus on four sites where there should be vigorous attention given breaches such as illegal parking, use of Parks outside of closing times, dogs on leashes, noise, damage to the sea wall etc.
We'll keep you posted.

Allsound Security Reports
ALLSOUND publishes regular security updates on incidents and call-outs that it handles throughout Knysna - and we are happy to report that LI continues to feature minimally to nil in most of them.
This fortunate situation is one of the many joys of living on the island - and it is thanks to LIRA's members, those of us who pay our dues, who make it possible.
Only some 62% of Leisure Isle property owners are LIRA members - please encourage those who aren't members to join! Free-loading off neighbours, especially by some very wealthy folk, is grossly unfair.

Resignation of Sheena Maré
IT is with deep regret that we report the resignation from the Committee of Sheena Maré who has decided to take a semi-sabbatical and spend more time on the family farm in the Karoo.
We thank her for the enormous contribution she has made to LIRA, and Leisure Isle in general through her Sotheby's realty business and its extensive community involvement. Fortunately, Sheena assures us she's not disappearing completely and is giving her input to the LIRA fund-raising sub-committee.

Noise at Featherbed Bay
THERE have been a couple of incidents of very loud noise, well after reasonable hours, emanating from parties at the Featherbed Bay restaurant.
A LIRA delegation met with the CEO of company, who has subsequently published a public apology, and given his assurance that this would not happen again and was in breach of company policy.
Red Tide - unwelcome visitor this summer
KNYSNA has enjoyed a bumper summer season, but there has been one persistent and unwelcome visitor: red tide off the coast, which first made an appearance in mid-January.
While making the estuary an unappealing muddy red on several days, it also gave rise to some spectacular displays of phosphorescence at night.
This tide is the result of a bloom of phytoplankton, microscopic, single-celled organisms that photosynthesise and form the basis of food chains in the oceans. There are three types of red tide organisms – diatoms, ciliates and dinoflagellates.
A species of the latter, Lingulodinium polyhedral, has been identified as the source of the tide. It usually lies dormant on the seabed until lifted to the surface during upwelling where ideal conditions of temperature and light trigger germination.
Grant Pitcher of the Dept of Agriculture Forestry and Fisheries (DAFF) reports that this red tide has extended all the way from Algoa Bay to as far south as Walker Bay near Hermanus.
He says it would be interesting to understand what's caused the red tide to be so widespread this year and speculates that it's most likely some kind of weather phenomena, wind in particular.
He adds that this strain of dinoflagellate is an unusual occurrence in Southern African waters although it is common along the Californian coast, and that this is the first time he's seen this strain along our coast. He explains that the chances of seeing it again in future are likely because the cysts rest on the ocean floor during unfavourable conditions when the blooms disappear. These cysts have no form of motility and form a seed population for future blooms.

Toxicity alert
Common types of red tide can kill shellfish, abalone, white mussels and black oysters. Others can be stored in mussels that become poisonous if eaten by humans. Paralytic Shellfish Poisoning (PSP) produced by saxitoxins that disrupt normal nerve functions) is associated closely with dinoflagellate.
Symptoms appear anytime between one and five hours after eating contaminated seafood. However, this tide's species is known to contain yessotoxins and, reportedly, no data supports their toxicity for humans but can affect other mammals.
The environmental authorities have nonetheless cautioned against the fishing of shellfish/mussels in the Knysna estuary until it is declared safe to do so. As this is a warm-water species, it is unlikely to persist longer than March when the water temperature declines.
The Knysna Oyster Company's Zwembezi Farms in Algoa Bay are currently closed despite tests clearing its oysters of toxins.
And any fears that the red tide may affect the Knysna Oyster Festival's supply of healthy and edible oysters are unfounded, confirms Zwembezi Farms general manager, Simon Burton.
Source: Knysna & Plett Herald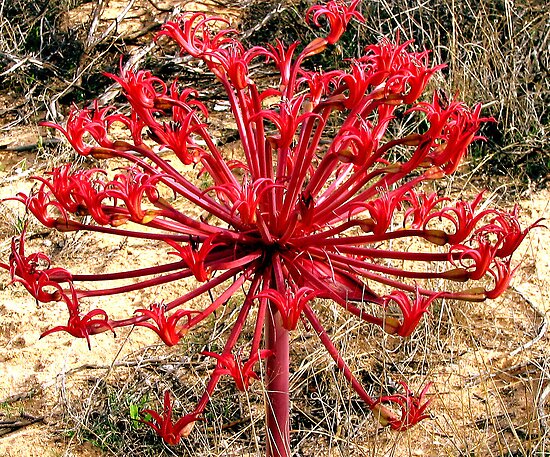 A candelabra show!
LEISURE Isle has many special attributes, and among them is the late summer blooming in Steenbok Park of the spectacular crimson Brunsvigia orientalis.
An unsually small showing of 76 plants last year materialised into nearly 400 this year, or 392 to be exact. This compares to about 500 in the two previous years and a best-ever recorded 800 in the early 2000s.
Commonly known as the Candelabra flower or tumbleweed, it grows in scattered colonies in coastal sand. The bud of this large bulb pushes up through the sand on a sturdy stem before a leaf can be seen, and produces up to 40 flowers in a rounded candelabra shape.
As the flowers fade the ovaries enlarge and become papery and eventually the flower stem breaks away and the flower head is blown about, tumbling over the ground and scattering its seeds, an activity that no doubt gave rise to its Afrikaans name
'Perdespookbossie'
.
We welcome your comments and feedback on this newsletter. And your input, too! Your news, ideas, stories, happenings are welcome.
LIRA wants as many Islanders as possible to receive these newsletters.
If you have family members, tenants or friends who would be interested in getting our news, we'd like to add them to our mailing database.
Contact numbers of police officials (in case of emergency):
S Langlands - 082 339 3931: R Meyer -

082 922 8605
082 922 8605


C Van Rensburg -

072 741 0314
072 741 0314
More tragic drownings in Knynsa Estuary


IN a heartbreaking start to the holiday season, three young girls drowned off Leisure Isle on December 19.
Accompanied by a 25-year old woman who survived, they were walking in shallow water when they fell into the deep drop-off at the main channel, and a rip then pulled them out. None could swim.
There was an impressive response from the emergency services, and an NSRI swimmer and two municipal lifeguards (from Green Hole, several hundred metres away) found them floating 300m off-shore, just before the Heads. They were given CPR all the way the hospital but to no avail.
As with the drowning of an 8-year old girl in November, authorities apparently battled to find parents/appropriate supervisors.
KM has assured LIRA that next holiday season two lifeguards will be posted to the main channel at low tide.
---
Steenbok Park Dog Day


DESPITE the rain on Saturday, February 8, dog lovers came out to support Steenbok Park's Dog Day, designed mainly to highlight, educate and reduce the horrible amount of dog poo that gets left in the park, and the island, by people who should know better!
Posters were strategically sited around the paths, pamphlets were handed out by volunteers, while the Doggy-Do Raffle encouraged participants to exchange a bag of poo for a prize. The response was heartening and by the end of the morning the park was the cleanest it has likely ever been since its development!
Steenbok Park's Roger Voysey says he believes that the poo situation has subsequently improved, although it is far from perfect, and that his team will continue to promote this awareness with further campaigns.
Bag it and bin it!
People and dogs love Steenbok Park but what gets ignored, unseen and left behind by dog owners is still at unacceptable levels. LIRA urges considerate use of the park – picking up dog poo is a common courtesy and not doing so is also one of the main causes of complaints against dogs.
Help everyone else love your dog as much as you do!
No excuses!
Myth 1:
It is totally natural and it breaks down –
natural yes but 1g of dog poo contains 23 million faecal bacteria. As it breaks down slowly into the soil, these bacteria can then get carried round by other animals, flies, people, children, water and moisture.
Myth 2:
It is like a fertiliser, helping plants to grow –
dog poo encourages other dogs to pee over the area causing nitrogen burn. It can also cause high levels of nitrogen in the water, upsetting the natural balance needed for indigenous flora and fauna.
Myth 3:
There are lots of wild animals and birds leaving their poo, too –
our natural ecosystem can handle two dogs per square mile only. Steenbok Park has hundreds of dog visits in a normal week.

Myth 4:
I don't want to carry round poo –
there are many bag dispensers and bins within Steenbok Park so you can collect a bag and bin it within a short distance. You don't like carrying it but nobody likes seeing it!
---
Councillor Wasserman's blog
LI's Ward 9 counciller, Michelle Wasserman, recently started an online blog.
You can catch up on ward happenings from her perspective on the link below - a good place to see what's happening outside your own back door, and beyond, in Knysna.
---
IN recent newsletters, we reported on the very ugly road equipment storage yard set up on George Rex Drive near the golf driving range by the Eden District Municipality (EDM), without the blessing of the Knysna Municipality.
After LIRA and others lobbied KM to remove this sully on the town's most scenic road, it was removed, as promised, at the end of February with the tarred ground being all that remains. Well done KM!


Before and After!

---
RIP: Marlene Hollis
THE LIRA Committee is sure all LI residents join us in extending condolences to our chairman, Keith Hollis, on the recent passing of his beloved wife Marlene, following a long illness.
Marlene was a gifted artist, gardener, businesswoman and gourmand. She and Keith together created what must be one of LI's most extraordinary and intriguing gardens.
Keith is an outstanding, committed and considered chairman who devotes much time and energy to LIRA affairs.
Our sympathies are with you.
---
LIRA is your security and your voice, a powerful voice, in influencing local government in Knysna, in your interest.

We need everyone's support and contributions!


A LIRA-less alternative is not worth thinking about!
---
---