Dear Leisure Islander,

Welcome to this December newsletter ....
LIRA Annual General Meeting: December 18 2014
WE urge all members to attend the AGM on Thursday, December 18, at 17h30, at the Leisure Isle Country Club.
The meeting is an opportunity to connect with fellow Islanders, old/new friends, the LIRA committee and to get a first-hand view of how your levies are being spent, and the issues affecting the health of LI and your property.
The minutes of the last year's AGM held on December 19, 2013.
Report of the Committee for the year ended October 31, 2014.

Audited Financial Statements for the year ended October 31, 2014 (copies of these will be available at the meeting. See link above if you wish to view prior to the meeting).

All these will be presented and discussed at the meeting, as will approval of the 2015 Budget and Member Levies.
There will be a cash bar. Donations for our guards' Christmas bonuses will be welcomed.
Festive Season security/beach issues
WITH thousands of visitors and residents looking forward to a summer of fun in and around the greater Knysna region, the Knysna Municipality is urging everyone to enjoy what it offers in a safe and responsible manner.
Here are the extra security measures in force:
Temporary point duty and law enforcement officers will be employed and increased. Strict by-law enforcement will be applied – especially against alcohol abuse and the associated unruly behaviour in public spaces.
NO alcohol is allowed on beaches or public amenities - favourite public party venues will be strictly monitored.
Additional firefighters will be on standby throughout the season.
No tents or overnighting on public land will be permitted.
NO parking on sea walls. These are very fragile and any vehicles parked on any sea walls will be towed away, and subject to fines for release.
No buses will be permitted to park on Leisure Isle.

Life guards will be on duty on Blue Flag beaches (Buffels and Brenton) from December 1, 2014 to January 31, 2014. Other beaches will be manned from Monday December 15, 2014 until early January 2015.
DOG RULES
NO dogs are allowed in the designated bathing areas of beaches (Bollard Bay & Green Hole included) during the peak holiday period from December 1, 2014 to January 31, 2015.
To accommodate pet-lovers, designated areas outside the swimming zone will be open before 9am and after 5pm every day.
In Brenton, the pet-friendly zone is 300m west of the second lifesaving flag, and in Buffalo Bay it starts east of the last beach residence. Normal access routes can be used to both beaches.
Dogs must be on a leash AT ALL TIMES and pet owners must clean up after their dogs and dispose of poop bags in the correct bins.

Leisure Isle Christmas Carols
THE annual Carols@Leisure will be held in Kings Park, opposite Sotheby's on Friday 19 December at 19h30.

There will be a nativity scene with a donkey and sheep (if the owners can be persuaded to deliver!), and children are encouraged to dress up as a character in the Christmas story, ie Joseph, Mary, Angel, shepherd, wise men, sheep, lambs etc.

Everyone is asked to bring a picnic, a rugs/chairs and family and friends. Carol sheets and candles will be available. There will be a donation box with proceeds going towards our security guards' Christmas bonuses.
The Knysna Pipe Band will be also playing, greatly adding to the atmosphere of this special Island Christmas event, kindly arranged and sponsored by Sotheby's.

Leisure Isle Festival

a huge success!
THE 12th Leisure Isle Festival, held over the weekend of November 1-2, was a resounding success. The quality of exhibitor stands was top rate, the choice of food on offer was superb, and the back ground music, village green décor and overall ambiance was outstanding.
Since it started in 2003 this Festival has become well known for its congeniality, but the new-look 2014 Festival, at its new home in Kings Park, has taken the event to new heights that hopefully will be emulated in the future.
A whopping R187 000 was raised for its five selected charities, an increase of 23% from last year: Hospice, ePap Children Feeding Scheme, Knysna Animal Welfare, Loeriehof Old Age Home and Steenbok Nature Reserve.


As in the past, these beneficiaries actively participated in running the tea garden, book sales, bar, walks and plant sales, once again allowing the public to generously support these worthy NGOs so close to Knysna's heart.

In addition, there were over 100 exhibitors representing local artists, crafters, home and local businesses who rented sites and contributed 10% of their takings to the charity pool. In fact, this year the festival generated economic activity of R600 000 for the Knysna coffers.

"It was great to see all the local faces, visitors to Knysna and to hear so many foreign languages at the venue - all amazed at the selection of goods available and in awe of the atmosphere created on the park. It was truly a great kick-off to the festive season," says stalwart festival committee coordinator, Roger Voysey. "Well done to all – we can indeed be very proud of such a magnificent result and the tremendous community spirit that it generates."


Take a bow Roger and your fellow organisers: Peter Godsell as deputy and representative of the beneficiaries, Lorr Scanlen who introduced lots of exciting ideas and concepts, Niall Johnston who looked after the setting up and Johan van Schalkwyk and Glendyrr Fick who represented Knysna Tourism.

As the Festival continues to grow, the organisers are looking for energetic volunteers to join the Festival committee. If you can help, contact Roger Voysey on 083 754 5390.
---
A personal letter to all Leisure Isle Home Owners
Dear Leisure Isle Home Owner,
I was recently asked to join the LIRA committee and have attended my first meeting.
What struck me was the wide range of matters that the committee members cover, verify, organise, institute, prevent, initiate and negotiate. I had had no idea before.
So to those 70% of residents who are our members and the 30%+ of home owners who are still not ("we have our own AllSound contracts…") please read on…
Overseeing security of our island is a huge job and vital, as I am sure we all agree. The main point here is even if you do have your own contract with Allsound, security of Leisure Isle is much bigger than that. It is not just your home that is constantly being checked but the whole island, having Bobbies on the beat. The peace of mind we all expect and love when living on this precious island does not come without a lot of work backstage!
A major initiative is underway for a major upgrade of the cameras at the island entrance, and to also eventually monitor weak security spots with virtual thermal surveillance. The upgraded cameras should be operational for the busy season.
The value of your asset on this island depends first and foremost on this island remaining the haven that it is.
Keeping that in mind, how many people know that over recent years the committee negotiated to get our rates adjusted to more equitable levels with the rest of the prime suburbs in greater Knysna? I didn't.
I had no idea how many negotiations happen with various organisations and people; environmentalists, SANParks, SAPS, and not least many with the municipality. Potholes, estuary waters, seawalls, garden maintenance are the obvious matters that are constantly monitored.
Liaising with Steenbok Park and the Leisure Isle Festival organisers – getting permissions and licences. That all happens in the background.
Our inner island parks are maintained, trimmed, weeded, tended by gardeners for whom our LIRA levies part pay. Baiting regulations are checked and monitored. New life savers are being organised for the festive season.
Plans have to be put in to place months in advance, and improved every year, to ensure that the influx of visitors on the island is handled in a fair and orderly manner. This year, the committee has negotiated that buses do not stay parked on the island, and security will be extended with extra patrolling to 12pm over the season.
The challenges increase every year for our community. LIRA has to anticipate, adapt and act – on your/our behalf. Please stay part of it or become part of it!
Sincerely,
Jenny Shields
LIRA Membership Co-ordinator
We welcome your comments and feedback on this newsletter. And your input, too! Your news, ideas, stories, happenings are welcome.

Goodbye and hello to LIRA Committee members

Viv Leach, Jenny Shields and Sheena
Maré
.
THE LIRA Committee is undergoing some changes.
We say goodbye, with grateful thanks for their hard work, to two stalwart members, Viv Leach and Sheena Maré. Viv has been handling the often-onerous membership portfolio but now feels it's time to hand over this challenging responsibility, especially as she now spends long stretches away at her second home in Mozambique.
As successor in this portfolio, we have warmly welcomed well-known Islander to the committee, Jenny Shields. We have every confidence that she will handle it with due diligence, and will work hard to keep tabs on existing members as well as scout and secure much-needed new members.
Sotheby's doyenne, Sheena Maré, is also leaving to focus on her extensive business responsibilities but has promised her on-going support and input to LIRA. This is especially important as her knowledge of the LI property market and its home owners is simply irreplaceable.
THANK YOU ladies, all!
---
AS one can see from the bar chart below, the rainfall for the first eleven months of this year has been very variable, ranging from a high of 139mm in January to a low of 10mm in September.
Cumulatively, however, our 2014 rainfall so far is virtually identical to the ten year average. Interestingly, Steenbok Park management now has over 20 years of rainfall statistics for the reserve and report that there is also no significant change between the 20 years average and current rainfall.
In summary, we have had an average year of rainfall with above average variability.
Now wouldn't it be great if KM was less capricious in the attention it gives, or not, all the potholes caused by said rain!
---
Safe water for the holidays!
YOU can enjoy your water sports and activities this holiday season without concern for the safety of the water!
Water samples are taken monthly at 13 points throughout the estuary and the subsequent results published on the Knysna Municipality website at
www.knysna.gov.za
.
According to national Dept of Water Affairs guidelines, target water quality for recreational use may not exceed 400 E.coli/100ml.
All these recreational sites, tested on Dec 2, were again well within guidelines:
Green Hole 97cfu/100ml
The Heads 10/100ml
Bollard Bay 31/100ml

Ashmead 52/100ml
Waterfront 0/100ml
Cfu stands for colony-forming unit, an estimate of viable bacteria or fungal cells in a
single sample.

---
Really appreciating the importance of our estuary!
THE Knysna Estuary and associated wetlands is the most ecologically important in the country.
According to several scientific studies relating to birds, fish and plants, it ranks higher than all other estuaries in terms of its natural bounty: it hosts a remarkable 43% of all of South Africa's estuarine natural life – all the more incredible, because the Knysna estuary is just 1 800 hectares in size.
Further, it is a foremost site for human delight: for adventure sports, nature appreciation activities (estuarine exploration, gateway to the sea), water-based recreation (canoeing, boating, stand-up paddling, swimming) and has an incredible 'sense of place'.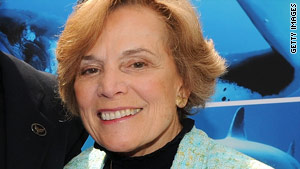 Launch of Hope Spot
Last week, world-acclaimed American oceanographer, activist and author, Dr Sylvia Earle (above), visited Knysna to launch it as a Hope Spot, special places that are critical to the health of the ocean. It is the first estuarine-based Hope Spot in the world.
Read more here
---
Knysna Rotary Lagoon Splash
SPLASH is the Garden Route's fun family festival... Four exciting events provide entertainment for both participants and spectators and challenges for the whole family!
It's all about having fun while supporting Rotary Knysna's community projects!
Spread the LIRA news!
LIRA would like as many Islanders as possible to receive these newsletters.
If you have family members, tenants or friends who would be interested in getting our news, we'd like to add them to our mailing database.
Please send email details to
Brenda Neall
.